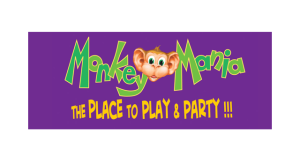 Read the Monkey Mania Review for Kids Parties
Monkey Mania is an Australian indoor centre for children. It is a great place to party if you are looking for indoor entertainment. Monkey Mania has play equipment that is ideal for children ages 1 to 12 years old. Children are able to use such play items as inflatable jumping castles, foam ball arenas, climbing structures, slides and electric go karts for kids. Depending on which Monkey Mania location is closest to you there are different themed rooms. They have themed rooms that include Undersea Pirate or Undersea Mermaid, Candy Land, Enchanted Fairy, and Magic Carpet. They also have Hot Air Balloon, Jungle Safari and even Outer Space.

Why Choose Monkey Mania for Your Child's Party?
Generally parents loves the place because it is not only for children but for the whole family. Because Monkey Mania facilities are focused on indoor activity you do not have to worry about it raining. Parking is also not a problem. The locations are very convenient and the whole place is fully air-conditioned. There are also fantastic café for the parents and the older children who can just go play on their tablets. You pay only for the total amount kids looking to use all the Monkey Mania facilities.
Benefit Review to Being a Monkey Mania Member
If you sign up to a current Monkey Mania membership offer you get many benefits. You become a part of the Monkey Mania family and you are entitled to $2 off for every child's entrance fee. Every fifth entry of your child he or she is entitled to free entrance. You also get 10% off on all food and beverages that you buy inside the centre. This excludes adult's platters. For $12 membership cost per family for 12 months this is great value if you are looking to have many parties or just take your kids there often to have fun.
Every Tuesday at Monkey Mania you get $6 entry for your kids under 5 years old. However this is only applicable on school days. Drop and shop service costs $26.50. It includes unlimited time for the child to play until the parents come and pick him or her up. Party package prices differ with every themed room used. Prices depend on the food ordered and the number of children and adults attending.