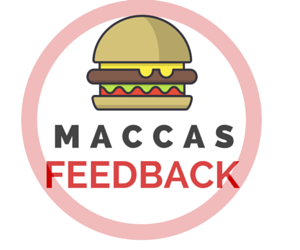 Free Food with Macc.as Feedback!
McDonalds is always interested to learn more about its customers. By offering this survey they hope to improve your in-store experience. By simply visiting the survey site you can tell the store how they went with your most recent visit. Then you will be rewarded with a tasty treat! Read on to understand how the Maccas feedback survey works and to get the most from the time you give.
Visit Macc.as/Feedback to Get Free Food
The steps to complete the Maccas feedback survey are very simple. Once you visit the site you will be sent to the MyMaccas site. Then you will be asked a series of simple questions including the following. Which store did you visit? Here you can enter the store number found on the receipt or simply type in the suburb location of the store. Then you select from when and where you ordered within the store and at what time of day.
Then with simple smily face icons you can rate your overall feelings about the visit, food quality and staff friendliness. Cleanliness and speed of service questions are also asked. So pay attention to everything about your next store visit. All this Maccas feedback will ensure that you not only get some free food but the store experience will improve for your next visit. A few more simple questions then you can submit your response.
Get a Free Macc.as Feedback Treat with MyMaccas
Then its treat time with Maccas Feedback! You can choose from either free small fries, free 10 pack bites or free soft serve cone with any purchase. If you want to get the most value for your feedback then choose the free small fries. Small fries are usually $2.20, Bites $2.00 and soft serve cone. Once you have selected your preferred treat you need to register with MyMaccas to receive it. MyMaccas is their online customer rewards site. Registration is completely free so don't worry about paying anything to complete the survey. You will be emailed your free food coupon over the next few days to the one you registered with.
Ready to give your opinions and get free food?! Go complete the Macc.as feedback survey now here.
Win Free Daily Savers Club Competitions
Win a $250,000 Cash Prize! – [Free Entry] Brandleaders Competition