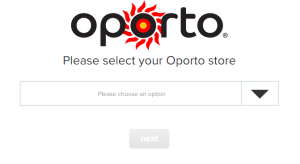 Win Oporto for a Whole Year!
Oporto, one of Australia's most popular takeaway burger chains is giving away Oporto for a month every year. With over 100 stores throughout Australia, Oporto wants to get customer feedback. In order to get people to respond to their Oporto Your Say survey they are offering the chance to win Oporto for a whole year. What does a year's supply of Oporto look like? Monthly winners will receive a years supply of Oporto $2 meal vouchers to be used at any Oporto store in Australia. 52 vouchers will be awarded to the winner so you can eat every week at Oportos for a whole year.
How to Win? Visit Oporto.com.au/YourSay
When you visit the Oporto Your Say survey site you will be directed to Oporto's to begin the survey. From there you simply need to complete some basic questions. In terms of online surveys this is one of the simplest we have seen. Simple questions such as the Oporto store location you visited can be filled in very quickly. The survey at times uses smiley face choices (happy face, neutral face or sad face) which makes it nice and simple to complete.
Tips to Win the Oporto Your Say Survey
As this competition has a prize every month if you eat at Oporto's regularly you will have a greater chance to win. To go win a year's supply of Oporto, complete the Oporto Your Say survey now! Good luck! To start, go to the feedback site here.
For more great competitions where you can win great prizes check out more Daily Savers Club Competitions.
Current Daily Savers Club Offers – November Only!
Get a $20 Wine Voucher, Win an iPhone 6! – Rate Your Bank Now!