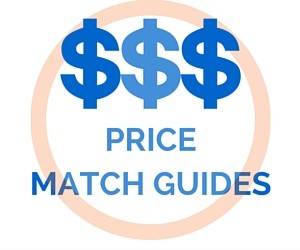 It's Time We All Price Match!
Welcome to the comprehensive guide to price matching at popular Australian retailers! The Daily Savers Club team have realised how much money you can save using price matching. It is something you may not have done before. You might have not realised that your favourite retailers might price match. Perhaps you feel uncomfortable asking for a price match. However by reading the general price matching guides below you can be more confident in the future when asking for pricing to be matched.
The Importance of the Price Match
Quite simply, the use of a price match can save you serious amounts of money. You must have seen advertisements saying "We'll beat any advertised price," "We'll match any price" or "Promised Price". All these are claims made by major retailers who wants your business. This is price matching. A retailer outlet offers to sell a product for the same price you would have paid in another retailer. Price matching is a common practice especially in big stores that stock a lot of merchandise. In most instances you have to ask for all of these claims and promises come true. Retailers like Dan Murphy's who generally always have the lowest prices without having to ask are not common place unfortunately.
Retailer Price Match Guides A to Z
Here is a sizeable list of price matching guides that you can read to help prepare with your own price matching. Disclaimer time! Retailer price matching policies may change from time to time and our guides are indicative only. These guides are meant for general information only and not valid or authorised guides from any mentioned retailer.
Dan Murphy's Price Match Guide
Why You Should Asking for a Price Match
Price matching is good for retail business. Some businessmen say that it is helpful when it comes to pricing their products. Everyday prices change and price matching makes prices transparent. It is also a good business strategy because it lures customers to purchase their products. Price matching is good for you the customer because you are satisfied that you have gotten the best price in town. Retailers know that when there is competition among retailers it results in lower prices. In many instances a sale made by a retailer even after agreeing to a price match is better than no sale at all.
Price Match Points to Know
Advertisements on price matching have larger words than the rest of those printed below. This is to attract your attention. But if you go down to the smaller words, you will find a list of things you should present and how to qualify. It will also state which products or categories are excluded from any price matching policy. These are finely printed maybe to make the list look shorter or so that you will not look carefully into it. These are what everyone should read very carefully. There are things that you should look for when a retailer price match.
Does it price match online?
Warehouse and discounted prices not included.
Items in clearance sales not included
Item must be exactly identical, excluding shipping charges, delivery fees and taxes.
If the item to price match is available in their stock.
You have to buy a product first before they price match and then give you a refund.
Check in frequently to read the latest price matching guides. Good luck using your price matching strategies at your favourite retail stores. Plan ahead and you can save a lot of time and money exploring for the best prices. Read on for more money saving articles.